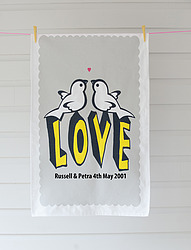 Petra Boase designs, creates and sources an eclectic range of naive and vintage inspired products,that include babywear, childrens T shirts ,party decorations, and stationery.Colour, quirky characters, pattern and bold photography are all signatures of the Petra Boase style.
Exclusive to NOTHS customers are the personalised invitation and thank you card range. We have also started to share some exciting selective bits that we have sourced from our travels around the world and fallen in love with ,these include the feather bird decorations ,Japanese paper balloons and paper decorations
Whether you are looking for a dinky gift, party bag fillers or fun decorations we hope you find what you are looking for.We will reguarly be introducing new products so keep your beady eyes on our shop! Thank you for visiting.