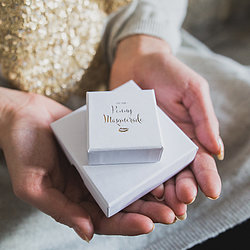 Founded in 2008 as a weekend hobby by English Literature graduate Sarah Bradley, Penny Masquerade has flourished into a full-time handmade jewellery brand created in and dispatched from a studio in a small village in Yorkshire.
The collection fuses vintage finds with new pieces and techniques in order to create hybridized treasures and trinkets that encapsulate the past and present in one fell swoop. The jewellery is inspired by woodland and nature, winged things, the night sky, geometrics and earthly treasures. Add to that a dash of personalisation, love, care and passion and what you get are unusual, mesmerising pieces that are uniquely tailored to the recipient - pieces that have real meaning and worth and are treasured forever.
We love creating the perfect piece for our customers and pride ourselves on our service. If you have any questions or queries don't hesitate to get in touch. We're here to help.
Penny Masquerade jewellery has been featured in a variety of publications from nationwide newspapers such as The Times and The Daily Express to independent magazines including Brighton-based Pretty Litter.