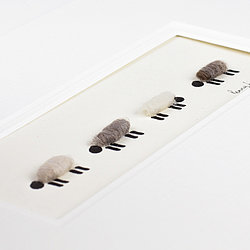 At Penny Lindop Designs we produce fabulous greeting cards, prints and gifts in our Norfolk studios. Established in 1998 when we began supplying a few shops.
We use FSC certified papers and some handmade papers. Envelopes are FSC certified and use recycled paper. Our greeting cards are packed in compostable bio-degradable clear bags.
As far as we can we source our materials within the UK. This is not always possible, especially for our lovely handmade papers, some of which are made in southern India and are part of a Water Aid project – a project that helps to sustain a whole community based on its production of the papers.
The cards and prints are all designed by Penny Lindop and are hand finished by a small team using sheep's fleece – our signature ingredient! Our prints are supplied in a double conservation quality mount ready for framing. Natural ash is used for the contemporary range of box framed pictures.
We hope you will enjoy our products.