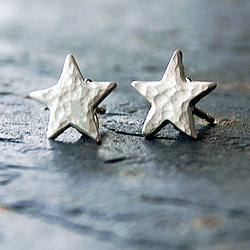 The story of Penelopetom began in the summer of 2007, when we nervously packed up our hectic city life and took up residence in a dilapidated cottage deep in rural Devon. Despite the misgivings of a leaky, unheated, rodent infested dwelling, we fell in love with the cottage's oozing personality, its' creaking cob walls, windswept position and hidden messages inscribed in its rafters by WW2 soldiers.
Working then, as Art Director and Interior Designer, we were keen to furnish our cottage with unique products that happily acknowledged its personality – unusual but honest at its core - and so began to trawl markets and trade shows across the world for inspiration for our new home. There we uncovered a wealth of talented manufacturers producing fabulously exciting yet grounded pieces that just were not available on the high street in general. It was then that we set about opening our own unique gift shop in Devon to showcase the most original home and gift ideas from around the globe.
We named the company Penelopetom, after our (not much used) middle names, names we thought captured the unusual (but not quirky) in the name Penelope, and the truth and honesty in the name Tom.
Two years later, our passion for products with personality extended into the creation of a range of jewellery, personal accessories and beautiful items for the home – each created with an injection of personality and energy to make them feel uniquely special.
Today, all our products are designed with our heritage in mind. We handmake and hand select all of our products from our Devon studios, creating vibrant products that are alive with personality.
Our range created exclusively for notonthehighstreet captures the essence of Penelopetom. The range encompasses beautifully designed and handmade items that allow you to capture the personality of those you are buying for - we are always delighted to offer completely bespoke variations from those that you can see, so do get in touch if you have a specific requirement or time frame and we will do our very best to help.
We are very proud of our enthusiasm to customer service and are available to speak to, in person, five days a week during normal working hours if you have any questions at all.
We look forward to delighting you.