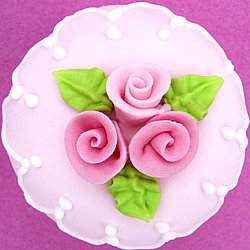 Romantic or contemporary cupcakes and cookies for all occasions. Our lovingly home-baked and inticately decorated cupcakes and cookies are a treat to eat and will make any celebration extra special.
Both the cupcakes and cookies can also be personalised with edible images using your own photos.
We also make larger celebration cakes and bespoke tiered wedding cakes.
Our cupcakes are freshly home baked to order using only the finest ingredients, from Madagascan Vanilla beans, fresh English butter, free range locally sourced eggs, and are mostly organic and fair trade. We don't use any artifical preservatives and so recommend enjoying your cupcakes within 3 days.
Although we don't use nuts in the cakes, there may be nuts used in our kitchen, so please be aware of this if you have a nut allergy. All cupcake and cookie orders can be delivered across mainland UK.