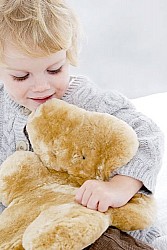 Pegged began after a gorgeous introduction to FLATOUTbear shortly after the birth of my first born Jack. Jack's FLATOUTbear was so snuggly & unique, the most perfect present for our gorgeous new baby.
Having never seen FLATOUTbear before, and no other mums that I came across had either, I was ready for a new venture once life settled down again and this was the perfect opportunity.
When our second baby Isabelle was born we of course made sure that she had her very own......actually she ended up with two as FLATOUTbear launched a Baby version just after she was born! They have also become her favourite toy & comforter. I get a huge rush of love seeing our babies asleep clutching their FLATOUTbear's, they truly love them and won't sleep without them. Our youngest baby is so funny and loves rubbing the soft FLATOUTbear baby over her face to help her fall asleep. Our two year old gently lays his teddy out on his pillow before laying on top of him and cuddling him to his face for a blissful night's sleep.
We hope your little ones enjoy their FLATOUT Bears as much as our two babies do.