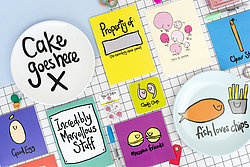 Peas-in-a-Pod is a collection of cheekily illustrated gifts and greetings for fun-loving folk.
From her East Sussex studio, creator Emma Donovan focuses on the cheekier side of life bringing her witty illustrations to life in a range of giftware to put a smile on your face and giggles in your belly.
From printed melamine picnic plates, softer-than-soft cushions to witty greetings cards for all occasions, Peas-in-a-Pod is an eclectic mix of cheeky humour and bold design championing the little quirks we share in our every day lives.
All designs and products are only ever printed in small runs making them really rather special.
For a special gift and something a little different whether it's for the girl of your dreams, the best chum, the nutty mum, silly dad, cute baby or ugly dog choose Peas-in-a-Pod unique illustrations and giftware.
Chuckles thrown in for free.