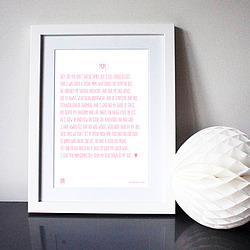 Hello, let me introduce you to Pearl and Earl.
Pearl and Earl are a couple… who's real names are Jacqui and Gareth, which didn't sound as cool or rhyme, so Jacqui decided to adopt this rhyming couplet as her creative alter ego, as their names made her smile. This is what we are all about. Designing things that make people Happy.
We believe that the secret to happy living is creating little moments of joy to add to our lives.. and everything we design has this ethos in mind. From our art poems bringing a tear of emotion, colourful decorations adding life to a party, to crafts that make our soul happy, each and every one of our products helps inspire, create, give or capture your own moment of joy!
Colour makes us happy, in fact we think it is the spice of life.. so we sprinkle this liberally through our collections, along with a hefty dose of nostalgia and other things that make our hearts sing. Our design style has been called nostalgic chic and we have been lucky enough to win lots of awards celebrating our British design studio. Our products frequently appear in Editorial and we have styled film sets and TV and even the VIP area at Buckingham Palace for the Jubilee Concert. Oh and our creative crush makes us crafty too... and our founder Jacqui has been named "One of the Top 5 Coolest Stitchers on the Planet".
If you are a fan of colour, pattern, nostalgia, enjoy old school adventures, like a bit of geek chic, are crafty at heart, or a baker or maker, and love a 'good do' and a belly laugh or two, then we think you will like what we are about.
We are based on our farm near the literary town of Hay on Wye in the middle of the Brecon Beacons.. we moved here from Sussex because the view is epic and it keeps our adventurous hearts beating! We love where we live and work and the Swallow in our logo was our home town of Arundel's symbol which we have adopted as our own when we started the brand in 2007. Now we have swallows nesting in our office eaves, so it seems some things are just meant to be.
Do what makes you happy - P&E x