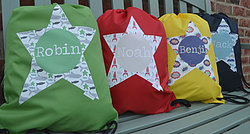 Pear Derbyshire is the creation of Julia Fewkes with the beautiful unique illustrations by Lucy Sheeran, two friends who share a love of drawing and making special things for the little people in their lives.
We aim to give our customers a choice of colour, design and name making a truly unique gift.
We pride ourselves in our quality personalised products and high customer satisfaction, even offering a bespoke design service just incase your little ones craze isn't included in our current designs.
We are constantly designing and illustrating new things our children love and coming up with new ideas of how to apply them to the things they actually use on a daily basis.
At Pear, each of our items is lovingly handmade and hand illustrated to order in the beautiful Derbyshire Dales.