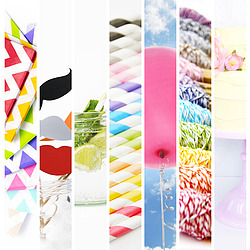 Peach Blossom is a stylish wonderland of pretty and original party decorations and accessories. Founded by party specialist Alyssa Williamson, she created Peach Blossom to be an inspirational source for styling celebrations.
"Special occasions are exactly that - special. So why use boring, sub-par products to decorate the moments which we all treasure for years to come. Whether it's your wedding day, a milestone birthday or a dinner party with your nearest and dearest, my aim is to bring you the most wonderful and extraordinary decorations to transform and accentuate your special day."
The first party store to offer an alternative to the more traditional party decorations, we remain dedicated to bringing the most beautiful decorations and adorable accessories to our customers. They are at the heart of all our decisions and we endeavour to offer great customer service.
Alyssa loves to feel inspired by the products Peach Blossom stocks and she wants her customers to feel the same way too so you can find a whole host of ideas on how to decorate your special occasion through the photographs of all of our products. "Creating a beautiful celebration doesn't have to be hard which is why we want to show you new, simple and stylish ways to incorporate the details which will turn your party in to a Peach Blossom party."