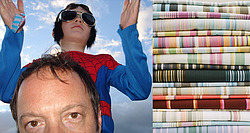 Hello, My name is Paul Vogel. I live in Suffolk with my wife Sam and my three sons: Felix,13 (that's Felix dressed as a Spiderman Elvis at Latitude Festival), Rufus, 10 and Milo, 9. We have two dogs called Booby and Pete, and a cat called Nancy.
I'm a textile designer and I specialise in woven fabrics. I have been running my own studio for 20 years, designing for all sorts of international companies in the fashion and home furnishing worlds, like Levi Strauss, John Lewis, Martha Stewart, Missoni, Calvin Klein, Abercrombie and Fitch, Holister, Avoca, Libertys, Jack Wills, Aubin and Wills, to name a few.
When I left art school I went to live in Florence, Italy and worked for Cecchi Lido, an Italian fabric mill where I worked on collections for Paul Smith, Jean-Paul Gaultier, Giorgio Armani, Donna Karen and Benetton. I came home after a few years and set up my design studio.
I am known in the industry for my colourful checks and stripe designs, and after working on everyone else's collections I decided to design and produce my own range of products to sell directly to you.
I hope you like it.
Best wishes, Paul x