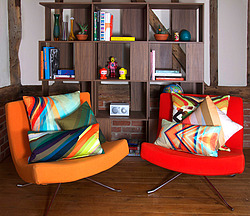 An exciting range of contemporary interiors products by UK design-duo Howard Wakefield and Sarah Parris.
Specialising in unique, colourful, painterly, graphic patterns, the Parris Wakefield Additions collection is an explosion of vibrant colour.
Crafted by digitally layering, mixing and merging colours sampled from a variety of inspirations, from nature to art and fashion, they have made a very distinctive collection, which can instantly transform a room, even with the addition of a single cushion.
Each pattern is different depending on the size of the cushion. You can also be bold and on trend by pattern clashing across the whole collection.
Howard and Sarah are very proud that all their products are made in Britain.