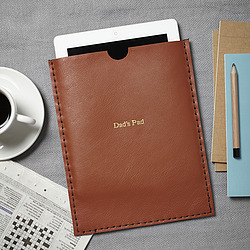 Parkin & Lewis create luxury leather gifts all made by hand in a small studio in South London.
With a love of sewing and a passion for creating personalised gifts Joanna Parkin-Lewis launched as a brand in late 2010.
Joanna has always loved making things, right from the word go, she went on to do a degree in Multi Media Textiles. After working in a gorgeous silk shop in soho and always having a Wednesday off (alone) she went onto design items in her spare time. She first started by making her Mum a make up bag for her birthday. It went down so well that she made more and went onto do a small gift fair in East London where she was spotted by Notonthehighstreet.com and joined later that month. A year later it all took off and she left her 'proper' job to work on Parkin & Lewis full time.
She has since gone on to develop a leather range of products for all different occasions. From gifts for sportsman to cards for new babies. She hand-picks the highest quality fabrics and leathers to create these handmade designs which are lined with the finest materials to maintain quality both inside and out.
Parkin & Lewis love working with leathers as they improve with age and are durable, which ensures the range of designs are made with quality and stand the test of time. The more you use your items the more beautiful they will become.
If you are getting married and are in need of a bespoke range of cuffinks to match either the Bridemaids dresses or a traditional Scottish tartan for example, please get in touch as we will do our best to accommodate your requirements.