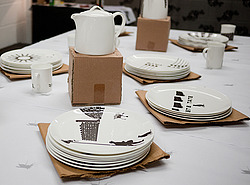 Parasite Ceramics was founded in 2010 by Central Saint Martins graduates Simeon Featherstone and Anastasia Sledkova.
An innovative approach to telling stories is at the heart of their work. Parasite Ceramics' versatile bone china tableware pieces reflect the wonderfully varied surroundings that they work in whether it is industrial London, suburban Surrey or historic Edinburgh. Each collection tells a story of a particular place as seen through the eyes of those that live there, as well as their own. Every product offers a visual commentary to past projects and events, to a revealed history, and to the people and places that inform them.
With combined experience in the fields of ceramics, graphics, product design and community engagement, Parasite Ceramics offer the medium of clay in unique and tangible ways that draw people in to connect once more with their surroundings.
Their past collaborations and projects include the Bloomsbury Festival, British Ceramics Biennial 2013, Handmade in Britain, Farnham Maltings, The British Museum and many others.