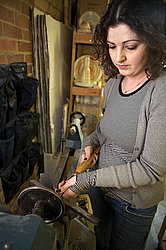 After accidentally leaving a book out in the rain, in 2002 Hannah Lobley developed the internationally exhibited and award winning Paperwork, a unique recycling technique using the printed pages of unwanted books and paper. The pages are layered and transformed back into a solid wood like material.
Traditional wood working methods are then used to create sculptural objects from that material. The surface patternation of the paper when the objects are worked echoes wood grain. Wood becomes paper becomes wood.
Paperwork is committed to sustainability, combined with traditional making techniques; the material and objects produced are very tactile, open and adaptable appealing to many. Each product and material is handmade in England; and is a one off, unique item in which the distinct surface texture cannot be recreated.