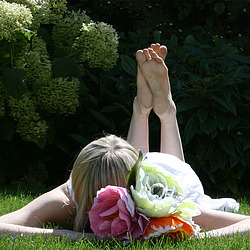 Paper Posies specialise in paper bouquets and flowers; there are no boundaries with colour, size, shape, pattern and design. Every bouquet, every flower is unique, no two will ever be exactly the same as each and every one is handmade from our studio in London. We can combine text in the paper petals; perhaps lyrics in the bridal bouquet, place names on the table centrepieces or guests' names on a single flower in each place setting. Whatever you are dreaming of, we can make.
We soon realised that it wasn't only weddings that made the perfect location for our floral designs, so we branched out - excuse the pun. Now we have a product catalogue that spans everything from cute spring time paper peonies to over sized flowers that can be as big and as loud as you like! We've also been very lucky in that we've been garnering more and more interest from the world of business, from window displays and advertising props to bespoke corporate gifts.
The options and designs are endless, there are no rules, so get in touch and let us see what we can do for you.