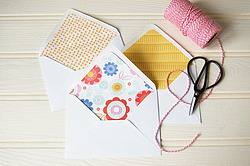 Paper Doily Party Shop was founded by Lauren Nesbitt, a Chelsea College of Art and Design graduate with a complete soft spot for beautifully handmade party products. When Lauren isn't baking delicious cakes, she's looking for inspiration in the form of vibrant colours, floral patterns and sparkle.
Lauren works from her home studio in Somerset, UK and set up shop after moving to the countryside and marrying Mr Nesbitt.
Paper Doily Party Shop originated from the love and excitement she experienced while planning her wedding and designing and making her own wedding decorations. Several guests made comments on her decorations, some referring to the venue as 'magical'. Lauren knew right then that she had found something incredibly enjoyable and didn't want the party planning to end. Since the special day, Paper Doily Party Shop has been providing handmade party decorations and illustrated stationery to lots of wonderful customers.
Lauren makes every product with plenty of love, care and attention to detail and feels extremely happy inside when her products become part of special celebrations.