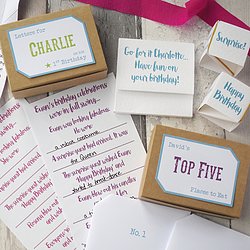 Welcome to Paperbuzz, where personalised cards and gifts add a little magic to your celebrations.
I'm Emma McLaughlin, and I am the owner, designer and chief (ok, only) inventor of everything new at Paperbuzz. I create all the cards and gifts by hand, from initial ideas, prototyping and testing through to making the finished items. It's a lot of fun!
As a child, I had a thing for 'how to make' books, but I never actually made any of the projects in them. Instead, I poured over the photos, and they would spark off my imagination about what I could create myself. I'd then spend hours with paper, scissors, sellotape and cardboard inventing my own unique designs.
This ability to see the potential in things, to improve, change and adapt what is already there has developed over the years. I can look at something traditional and change it so that it becomes something unusual and original. I love creating quirky items – something that looks at first glance quite ordinary, but actually contains or does something unexpected and exciting.
I love that my customers are looking for unusual and unique ways to make their friends and family feel special. Often, they are celebrating important life events such as weddings, milestone birthdays and new babies.
However there are also lots of smaller, more intimate moments such as passing a driving test, celebrating a new job or saying thank you to someone special. These moments deserve celebration too.
There is a huge amount of pleasure to be gained from seeing someone you care about receive a card or gift that makes them smile (or jump first, if you've just given them a popping card!).
So, if you want to add a little personalised magic to someone's celebrations, enjoy having a look at my products.