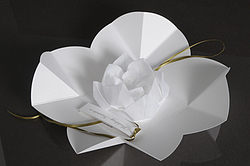 We design and produce luxury origami and laser cut invitations, stationery and gifts. All our designs and products are constructed and produced where possible by hand using a range of quality fabrics and papers.
Born from a background in fashion and a love of paper, quality materials and clever processes we aim to achieve innovative and design led stationery ideas for a range of special events. We have produced stationery for weddings, anniversaries, christenings and those extra special birthdays and on many occasions translated our designs into special favours and gifts. We are able to offer you the choice to order a range of complimentary accessories as well as the choice to personalise our designs as you wish. There is no minimum order so it could be one for that extra special guest or one for all of your guests - we will leave that up to you!
If you are looking for a special keepsake invitation or card or something with just a unique twist then we aim to deliver. If we have not got exactly what you are looking for then get in touch as we are able to work on bespoke designs and ideas too.