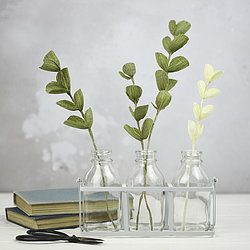 "We sew, we grow and we help to save the Bees"
Paper Bea was launched in 2013 within a cottage garden studio surrounded by the splendour that is the Derbyshire countryside. Each plantable product features a variety of wild flower seeds taken from our very own cottage garden such as Poppies, Foxgloves, Hollyhocks, Daisies, Blue Bells and many more. The paper flower collection is inspired by those surroundings, each petal hand cut and hand shaped making each one truly unique.
Our paper products use only the very best of recycled and eco friendly materials and are hand printed where possible.
Helen graduated from Nottingham Trent University earning a degree within Decorative Arts, resulting in a new passion for paper products and creating a enthusiastic advocate for traditional arts and crafts, their methods and origins.
Our products create sustainable and eco friendly gifts for any occasion and our materials are sourced from Eco friendly suppliers and the papers are printed within the UK using 100% recycled materials.
The collection has been featured within Elle Decoration Magazine and The Guardian to name a few, and was also presented the prestigious 'SBS' award by the British retail magnate Theo Paphitis in July 2015.