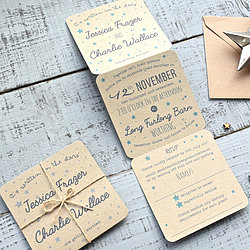 Hello, we are Paper and Inc. A small creative design studio based in Fife, Scotland run by myself Tracy Petrie, a fully qualified designer.
At Paper and Inc. we design and make fabulous, beautiful, high quality wedding stationery that's as unique as you are. Devoted to outstanding quality and attention to detail and are always open to any of your ideas.
All designs are custom made, and can co-ordinated across as many items as required. Our collections shown can also be colour changed and printed on a range of different card types.
A wide range of designs can be found from modern, rustic, illustrated and vintage style.
Since launching Paper and Inc I am very proud to have been featured in national magazines such as Brides, Wedding Cake, You and Your Wedding and Vogue.
Hope you enjoy looking through tmy shop and please get in touch with any queries.