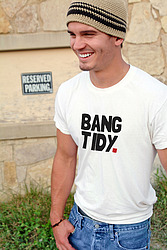 Otto's day was created by designers Russell, Jesper and Jenny in London in 2012.
With our backgrounds being in menswear retail, wholesale and fashion design, we have spent most of our lives collecting all sorts of ideas, words and phrases which we like and which we have now put together as a small menswear collection, or rather a collection of tops so far. When we are not busy printing, we are working on finding more new ideas of treasurable items for men.
Everything we make is hand printed individually and made with love, we hope you enjoy it as much as we do. Finally Russell and Jesper have found something that they really love wearing.
Thanks for popping by.