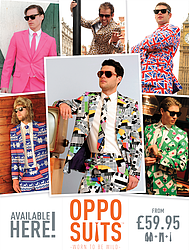 We make suits, outrageous ones. An OppoSuit is the exact opposite of a regular business suit (apart from the quality and the fit) and is made out of a ridiculous and unusual pattern in a well-fitted design. The high quality fabric similar to proper 'boring' suits enables you to wear your OppoSuit over and over again, so please don't think it's some sort of a disposable fancy dress costume.
The fact that a full suit, including a tie, can be delivered to your doorstep for an incredibly reasonable price just seems too good to be true, right? It does indeed though we're dead serious about it and truly believe that OppoSuits should be affordable for everyone!
Being worn to be wild, OppoSuits are extremely suitable for very serious business meetings, stag dos, weddings, fancy dress parties, festivals and sporting events. OppoSuits comprise a three-piece set consisting of: jacket, trousers and tie.