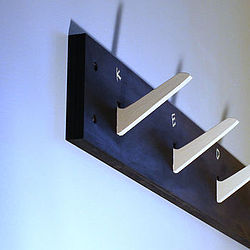 Katty Barac runs One Foot Taller, designing lighting and homeware with an emphasis on simplicity, durability and elegance. The company was started in 1995 in Glasgow, some of the products are made by a small factory in Scotland and some are made in France where she now has her home, family and studio. Katty loves to work with producers who are local to both of these bases, - good environmentally and great for communication.
'As a designer I find it grounding and enjoyable to have a practical hand in my products. I try to always have a range of hand-finished products and do the finishing myself.'
After 20 successful years of production, winning awards along the way, One Foot Taller continues to design modern lighting, furniture and home accessories with a retro touch. The aim is still to offer enduring, sustainably-produced and practical products which, though simple and elegant, have character and personality. Not-so-guilty pleasures!