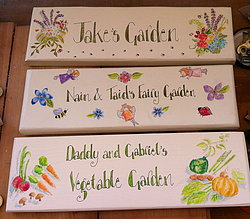 We are a small family run business who design and decorate wooden crafts in the UK. All items are handmade from beginning to end in Kent.
Many items are suitable for personalisation and we are happy to accommodate customers requests.
We have a huge range of products for the home, for both adults and children. A special feature of many of our wooden, painted products is the hand written script, which adds charm to each piece.
We regularly add new products to the range, as we have more ideas than time! Particularly popular is our range of hearts to celebrate Births, Christenings, Birthdays, Weddings and Anniversaries.
Also very popular is our Garden range which includes signs, garden shed keyholders, garden hearts and hen signs. Our latest speciality is bespoke signs. The cusyomer chooses not only the text but the hand painted illustration which will be unique to them.
Following quickly behind in popularity is our Nautical range of boats and beach huts. These are very popular in seaside homesand for bathrooms, childrens rooms and particularly for the sailors amongst us.
Our latest range of products focuses on signs of various types for gardens, playhouses, sheds, pet memorials and house signs. The bespoke signs have proved to be of particular interest as the customer is able to choose the subject to be illustrated, leaving me to interrpret it in water colours.
Children are particularly well catered for as I often think of items to make for my grandchildren. If they are pleased with them, I know that other children will be.
I have now been joined by my daughter in law Rachael Monro who is a superb illustrator with a querky outlook and sense of humour, which is reflected in her work.
As well as the wood that is used, the products are decorated with a selection of fabrics, paper, buttons, string, wire, ribbons and shells. Many items are decorated with fabric paints to give a slightly raised surface.
We started the company in 2006 and now we sell to customers all over the UK and worldwide. The feedback we get from customers is great and people certainly seem to love our products.