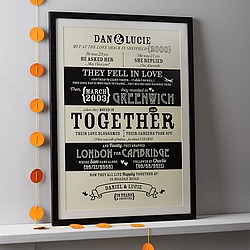 Octavia Plum was formed off the back of a napkin in 2011 after our first little one arrived. That was when the urge to not go back to the office job and become more creative took hold.
So we decided to specialise in high quality personalised prints that celebrate life and love. Each item is made just for you and designed and produced to a very high standard by our small, family run studio in South London. High quality products and attention to detail is what we pride ourselves on the most, and of course, making sure our customers are very happy.
As well as 14 years graphic experience and a big love of type we especially love listening to other peoples love stories over a cup of earl grey and planning the next big thing.
We are always brimming with ideas and developing and adding to our range... in between a swift nappy change or two.