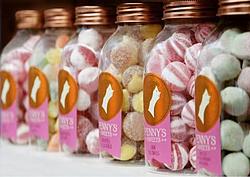 At Ocean Blue Candy we take great pride in the knowledge we have of the confectionery industry and delight in bringing long ago forgotten favourites as well as new creations to the market for the consumer to experience and enjoy. Our new brand Penny's Sweets brings together our joy of confectionery into new modern packaging with a flavour of yesterday.
Penny takes great pride in her colourful array of scrumptious sweets, hunting high and low all over Britain to bring you a mixed bag of classic favourites and new, surprising flavours.
To create the Penny's Sweets brand we have brought the finest classic favourites to a range of confections that you may have never seen or tasted before. Every sweet has been tried and tested by us and has passed our scrupmtious test for its suckability, lip smacking flavourability and all round confection perfection.
We hope that Penny's Sweets will delight and excite you as much as they do us, so go on give yourself a treat, and if you don't deserve one, then have one anyway.
Penny's Sweets - Not toffee nosed, just sweet !