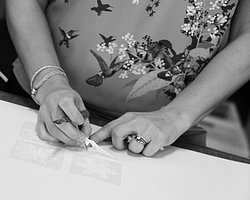 Nutmeg Signs is a small family business with over 20 years' experience in sign making and printing.
We started off with our sister brand, Nutmeg, with a focus on wall stickers and decorative signs.
After the success of our range, founder Adele decided to go back to her roots as a sign maker and create a collection of unique, high quality door numbers, house signs, printed clothing and wedding signs.
With her training as a traditional sign maker, Adele instils a sense of quality and craftsmanship in all our signs, and each sign is handmade to order just for you.
Our range of designs, colours and materials means you can find something that is perfect for your own home or wedding, and will make a lasting impression.
For our range of original wall stickers, visit our sister brand at www.notonthehighstreet.com/nutmeg