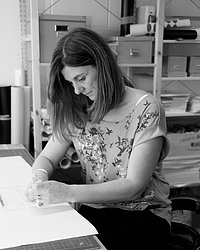 With over 20 years' experience in the sign and graphics industry, Nutmeg is a small business creating high quality decorative signs and wall stickers.
I'm Adele, founder of Nutmeg. I originally trained as a traditional sign writer, and spent 8 years working for sign makers and graphics companies, where I met my husband. After leaving to have our first child, I decided to work freelance.
I used my wall sticker designs to decorate my children's bedrooms, and friends and family soon caught on to the idea of wall stickers for their own homes and offices. After that, Nutmeg was born!
Our unique high quality wall stickers are an easy way to add a personal touch to your home decor. Quick and easy to apply, they can transform your home in a matter of minutes. They can be used on most surfaces, and work especially well on smooth surfaces like walls, doors, and mirrors.
Our wide range of colour and style means that you can find something that truly suits your home.
For our sister brand of house numbers and wedding signs, take a look at www.notonthehighstreet.com/nutmegsigns