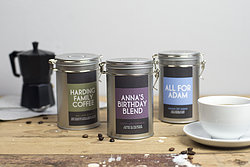 About us...
Novello offers a different take on hot drinks – ours have attitude! Premium coffee and tea in well-designed, fun packaging is the name of our game. Select a design and purchase it as it is or personalise the message to add that extra special touch. Whether you're buying for a tea connoisseur or a coffee novice, our products are guaranteed to look great, create a taste sensation and cause a stir (pardon the pun!).
Novello was started by two sisters who dreamed of developing a business together from a young age. They have big plans for their ever growing product range so watch this space, there's much more to come!
About the coffee…
Novello works with Joe Black Coffee to ensure the quality of their coffee won't let them down. Joe Black Coffee is one of the finest roasters in the North of England with local roasteries in Liverpool and Manchester. They use a combination of tried and trusted, traditional flame-roasting methods and the very highest quality beans from around the world which results in fabulous tasting coffee. Sound tempting? Try it for yourself, we'd love you to enjoy it as much as we do!