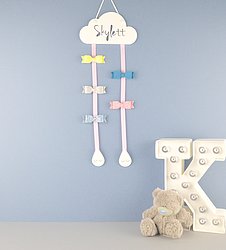 No piece of jewellery should sit in a drawer, loved, but forgotten at the bottom of a box. It's there to be worn, to be admired, to pull together an outfit or to change it up entirely, and out of that, Not a Jewellery Box was born.
From a young age, Emma loved jewellery and would play dressing up with her Grandma's jewellery; unwrapping the bangles, she would find herself longing for pierced ears so she could wear the earrings (she tells us she would instead drape any that she could over the tops of her ears back then). And layering? Emma was layering necklaces and bracelets years before it was fashionable.
Once she grew up, despite an ever expanding hoard of jewellery she found herself wearing the same pieces day in day out. With a young family, every second of her morning was taken up, and she didn't have time to rummage through boxes in her dressing table to mix things up.
And as if by magic, inspiration struck: beautiful, covetable jewellery stands that have absolutely no intention of hiding things away in a drawer, but allow for necklaces, earrings, bracelets and rings to be readily accessible every morning, ready to wear, and absolutely not hidden away ready for a grand-daughter to find them and play dressing up (though she does sell necklace books for the more precious pieces which are also PERFECT for taking your sparkles away on holiday safely and securely without either getting knotted or lost).
Which is why, at Not a Jewellery Box we have many versatile stunning storage solutions (including personalised options) so that your accruements are at the tip of your fingers (which have a different ring on daily now that you can see them so readily). Accessorising your home with your accessories, and maximising their wear. Simple really.