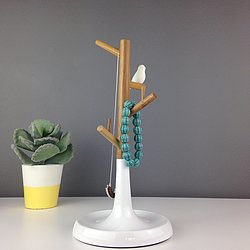 We are all about jewellery storage here at Not a Jewellery Box. Based in Sunny Devon our passion is to seek out jewellery storage ideas to suit your jewellery collection and your home style. Headed up by me, Emma, I have a background in Banking but now soley run Not a Jewellery Box with some help from family and Anna who works with us.
I love jewellery, I always have. As a child I remember the joy of looking through my grandmas jewellery collection, wearing her bangles and wishing my ears were piecrced!
Today I have a mixture of jewellery. From bold fashion pieces bought to match an outfit and timeless pieces that I will pass to my daughter one day. I have necklaces that are hung from Jewellery Hooks on my wall and the more special items that are tucked away in The Little Book of Necklaces.
Not a Jewellery Box was founded because I found myself wearing the same earrings everyday and the same necklaces for weeks at a time, the rush of the morning routine meant that I forgot to change my jewellery! With my necklaces hanging on the wall I find it easy to choose what to wear. When I spend time away from home I make use of Items like the Travel Book of Earrings.
We work hard to have a varied range, we recognise that we all have different styles at home and also that space is precious.
Some of our range can be personalised, using vinyl lettering we can add a name or date. We also offer gift sets where you can bundle a jewellery storage solution with an item of jewellery and a unique presentation card making a lovely present for any jewellery lover.