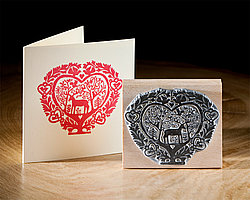 Noolibird is a collection of handmade rubber stamps for Christmas, weddings, anniversaries, birthdays and they are also popular as presents for children.
I design them all myself from my home by the sea, near Brighton. I also make all the stamps myself and mount them on wooden blocks which are cut for me in the UK. My stamps are for your own personal use, for you to make beautiful cards wrap and gift tags for your friends and family. The are not for you to make cards with for resale.
Please note that my stamps are made from photosensitive resin and are suitable for use with water based inkpads, solvent based inkpads will damage the stamps.
The childrens fabric and wallpaper borders that i sell are also designed by me, all fabrics are 100% cotton. Noolibird fabrics are printed and manufactured in the UK.The wallpaper borders are also printed in the UK on paper from sustainable forests.
If you are new to stamping you may find these instructions helpful.
Stamping Instructions
1. Make sure you have a flat surface for your paper or card to go on.
2. Always use matt, uncoated paper. The ink pads that I sell will not dry on shiny paper.Also note that ink pads that do dry on shiny paper may not be suitable for use with my stamps.
3. Hold the ink pad in one hand and the stamp in the other and dab the ink pad onto the stamp. Have some practice paper to hand for your first few goes.For small stamps a couple of dabs of the ink pad will be enough ink.For larger stamps dab the ink pad all over the stamp to get an even coverage.
4. After stamping 5-10 images the stamp may become a bit clogged up with ink. Clean with a scrubbing brush and washing up liquid under running water, dry with kitchen roll.It is also a good idea to clean and dry your stamps after use and dust with talc.
Trouble shootingIf you find you have a smudged image or the finer detail is filling in, you may have applied too much ink, and/or be pressing too hard. It also may be that you need to clean the stamp, as it is getting clogged up with ink.If the image is too pale, is broken up or is missing in places you may have applied too little ink, be pressing too gently or may not be applying pressure evenly all over the back of the stamp.
If you find that with several attempts and trying all the above there is an area of the stamp that will not stamp properly there may be a fault with the stamp, in which case let me know and I will get another stamp in the post for you, and refund your return postage of the faulty stamp.