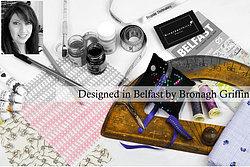 Old fashioned values and quality coupled with modern design and execution.
Nineteenthirty Atelier is a design studio and shop situated on Belfast's Lisburn Road . It is owned by designer Bronagh Griffin. who primarlily specialising in luxurious menswear.
'We design the old fashioned way to ensure orginality , firstly researching, often things in history, art and textiles; we create a story, select or design the fabrics and colour palettes, the shape, cut and construction. We draw and sketch our collections before instructing our manufacturers. We love colour,quality cotton and silk.'
The Nineteenthirty label designs & produces exclusive limited-edition shirts, scarves ties and pocket squares, but also supplies an eclectic mix of accessories by small independent labels who have a like minded ethos.
Nineteenthirty shirts are all limited edition with only 50 ever being made. Each collection is woven together with a story and each shirt is named and numbered as a printed work of art. Accessories are often hand made and in exclusive or archival prints.
Bronagh trained in the National College of Art and Design, Dublin, many moons ago and has worked as a designer and brand creator for over 25 years. Nineteenthirty brand was created in 2008 and the Atelier opened in autumn 2012.