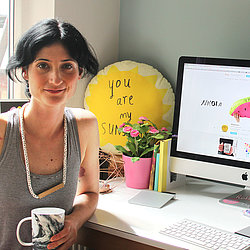 I create cheerful, funny, witty and bonkers gift items from my studio in Manchester, UK.
The products are designed to brighten homes and lives so I hope they make you smile!
I was able to quit my day job in 2011 and make my living from doing what I love. I sell my cards, pillows, and bestselling 'pocket manfriends' to individuals and gift shops worldwide.
Colour, bad haircuts and inappropriate footwear inspire me. When I'm not drawing I'm a marathon runner and unqualified peanut butter spokesperson. I believe dreams can come true if you sweat hard enough and get plenty of protein.