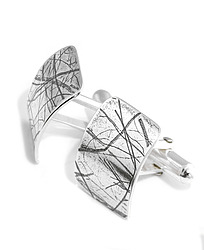 I am a jewellery designer based in Dundee, Scotland. I create different textures on silver and gold through roll printing a range of different papers. Due to this, each piece of jewellery is unique as I cannot recreate exactly the same texture the paper creates. To give form to many of my pieces, I tend to curve the silver or gold to make it either convex or concave.
I graduated from Duncan of Jordanstone, College of Art and Design in 2003 with a first class honours degree in Jewellery and Metalwork. The inspiration behind my jewellery has always been textiles including the work of Nuno Coperation and Lucienne Day.
My collection of work ranges from precious metal earrings, bangles, cufflinks, neckpieces, brooches to large steel neckpieces and interlinking steel brooches. I am also available for commissions.