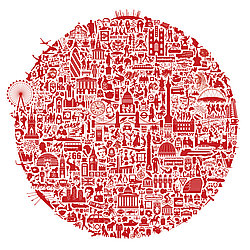 From an early age Nick has always been attracted to the graphic side of life – logos, symbols, pictograms and type. A career in graphic design satisfied this interest to a large extent... but not completely. Nick has also been invigorated by living in two of the most visual and vibrant cities in the UK, Brighton and London. Put these ingredients together and the end result is a highly distinctive and original series of art - 'city prints'.
'London Calling', 'Brighton Rocks', 'New York, New York' and more recently 'Paris, Je T'aime' have already achieved much success. Next up are two more of Nick's favourite haunts, Barcelona and Amsterdam expected some time this year.
Sitting alongside these prints are a series of personalised prints combing graphic icons, humour and the ability to make each prints unique with your own message or content.
Nick's other work is an eclectic mix of graphic and typographic prints featuring tea, fish, The Beatles and British Rock music. All nickprints products are printed on quality fine art paper.