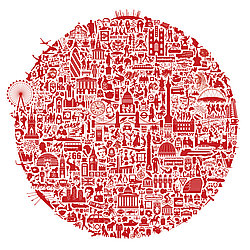 From an early age Nick has always been attracted to the graphic side of life – logos, symbols, pictograms and typography. Nick has also been invigorated by living in two of the most visual and vibrant cities in the UK, Brighton and London. Put these ingredients together and the end result was the start of the highly distinctive and original series of art - 'city prints'. 'London Calling', 'Brighton Rocks', 'New York, New York' and more recently 'Paris, Je T'aime' have all proved very popular. This was followed up by his most ambitious project yet - 'Iconic Isles' a pictographic map of the UK & Ireland.
Other nickprints interests are music and popular culture which have been reflected in 2 hugely popular 'decade prints' about the 80s and 90s. Both feature a diverse range of music/film/TV/games icons that encapsulate these decades. Other musical prints include typographic prints about the Beatles and David Bowie and a graphic history of London's music scene.
Nick's other prints are an eclectic mix of personalised prints including 'Dad's Top 10' and golf, cycling, football, wedding, family and fishing prints. These prints are particularly good presents for birthdays, Christmas, wedding gifts and Fathers Day.