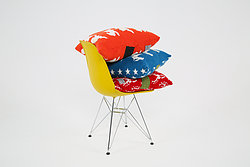 Nervous Stitch is the creation of Royal College of Art graduate, Jenny McHardy, our collection is knitted in Scotland using mainly British lambswool in bright and bold colour combinations, knitted on a hand-powered domestic knitting machine
The products go through three stages of washing and finishing to produce a soft and tactile fabric, they are linked together on a hand operated linker and labels and details added by hand.
We are passionate about knitting and keeping traditional skills alive, whilst keeping these skills current and relevant for today, our products appeal to design conscious people who are interested in high quality products that are made in Scotland.
Having a humorous slant, Nervous Stitch's name comes from the emotional connection between people and textiles, With this in mind, our inspiration for our collections comes from animals we love, and items we collect on our treasure hunting travels, our designs fuse a nostalgic illustrative look with strong evocative imagery.