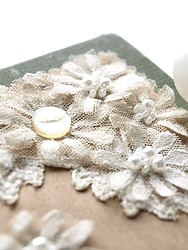 Established in 2009 Nellie & Elsie is the creation of Jess Sharp, a UK designer/maker. She is based in Manchester where she works from her city centre studio.
She has a passion for textiles and embroidery and loves experimenting with 'non-traditional' materials, such as old books, maps and tins.
Poetry, literature and song lyrics are a constant source of inspiration, many of her pieces incorporating her favourite books and quotes.
All Nellie & Elsie's pieces have an individual quality to them, whether it be the stitching, buttons or embellishments. Each one is truely unique and just waiting to be treasured.