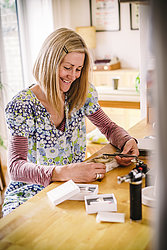 Inspired by the frustration at not being able to find a unique Christening gift for my nephew, I decided to turn my hobby into a small business and create the gift I wanted to give him.
The silver birthday candle holder was born.
There are several designs currently available and I consider them to be the perfect gift to give in celebration of a birth, first birthday, Baptism or Christening.
Individually handmade from fine silver, each birthday candle holder is totally unique to the recipient. They are personalised with a name and date of birth, making a very special centrepiece for a birthday cake. The idea is that the bespoke gift will be treasured and used for birthday celebrations year after year, as candles are blown out and wishes are made.
Each candle holder comes presented with a birthday candle and matchstick together with care instructions and a small presentation certificate to help mark the special occasion. They measure approximately 2cm - 3cm, depending on the shape. A standard 5mm birthday candle fits securely into the candle 'cup'. A 1.5cm spike holds the candle holder firmly on the cake.
Made entirely by hand from start to finish by myself in a workshop at home.