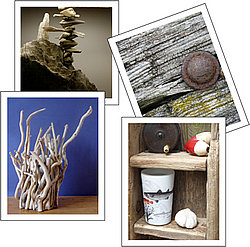 Decorative art made from driftwood
From an early age I have been fascinated with driftwood, searching the beaches of Pembrokeshire and Cornwall in my holidays. We have all enjoyed beach-combing at some time or another and often wondered what to do with the driftwood collected. I have taken it one stage further and created my own unique decorative designs from my finds. The coastal lifestyle is about appreciating the natural environment and my work will serve as a memento of that.
Business clients include: Jo Malone, Hotel du Vin, Andrew Winch Designs and Delahunty and Harley Architects. My designs have also been featured in the Guardian, Financial Times, Evening Standard and Coast Magazine.
If you like what you have seen but prefer a variation or different size, contact me for ideas and prices of individual commissions.