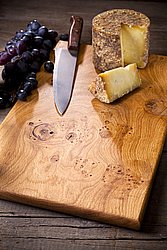 Naturally Created with a story to tell about hand-crafted wooden boards.
Our story begins with a love for nature's beautiful product of wood. We take a piece of natural timber and carefully handcraft it into a unique board for your home.
All our boards are made by skilled craftsmen who bring out the unique qualities of each individual piece of wood. Because the timber is completely natural no two boards will be the same. They will all have subtle differences of colour and figure making a board that is as individual as you.
We use a range of indigenous British hardwoods which all have their own individual characteristics. The character of oak, the strength of beech, the colour of cherry, the toughness of ash, the figure of sweet chestnut and the lustre of sycamore. Whichever you choose, your board will fit perfectly into your home.
Our timber comes from sustainable and managed British woodlands with complete traceability, we can even tell you where the tree grew!