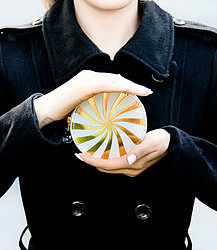 Combining her knowledge of 3D design and traditional leather working techniques, Natalie Thakur produces unique limited edition, handmade luxury leather goods and accessories from her London-based studio.
The range is inspired by nostalgic designs, sweets and coins, bring a new look to personal accessories and leather goods. Natalie's designs have a wide appeal and truly offer something unique and different. She uses leather and other materials creatively in her designs for purses, bags, tote bags, leather cuff bracelets and more. Bold colours and high quality finished feature throughout the range.
As seen in The World Of Interiors, Blueprint and WGSN magazine.