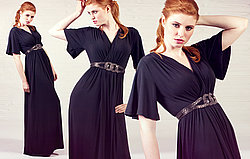 Specialising in day-to-night jersey, Nancy Dee creates stylish, versatile pieces that translate easily from home to office to evening out.
Created by two sisters in 2008, the collections rework classic shapes with bold prints and strong colour palettes, utilising the inherent characteristics of jersey - its softness, drape and stretch.
Style with Conscience
Sustainability is key to their company manifesto. It means the utmost care is taken to ensure that the complete life cycle of the garments, from creation, through their care, to their eventual disposal, has the minimum environmental impact.
The materials used - organic cotton, soya bean, bamboo, linen and silk - are made from fibres extracted from renewable sources, which means that they are grown naturally, the land can be re-used after each harvest, and unlike petroleum-based synthetic materials, they are fully biodegradable.
Designed in Britain, Made in Britain
All the pieces are manufactured in the UK, using a couple of small local factories with whom the sisters have a close working relationship. The company believes in preserving the specialist skills which are fast disappearing in the UK and in investing where possible in our local economy.
Additionally, they can be sure that the quality of the garments is top-notch, and better still, it means each garment has fewer 'air miles'.