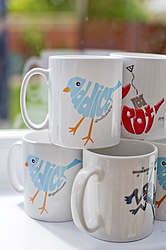 Charis Turner, a mum of two boys and a trained primary school teacher, began her business creating gifts for newborns - incorporating their names into striking images of teddies, toys and animals. From their studio near Bath, Name Art now apply her designs to prints, canvases, mugs and cards, making beautiful, thoughtful and personal gifts.
Charis has a passion for creating unique products that reflect children's favourite interests. Tractors, fairies, football, horses, dinosaurs, pirates, ballet - take a look, the words are hidden in the pictures!
Her favourite commissions involve personalising a design by incorporating the child's name into a picture of something they love. Personalised designs are hand drawn and adapted to your exact requirements, so that no two pieces will ever be the same. Children love this!
Name Art's artwork has been commissioned by customers across the world. Charis' artwork graces the homes of high profile clients such as Dannii Minogue, Emma Forbes, Kirstie Allsopp and Theo Paphitis.
You can be assured that we only apply our designs to the highest quality products. Stylish homewares, keepsakes and gifts that you can be proud to give.
As Name Art has grown, adults have requested designs for themselves – including the beautiful new FootPrint range – so you may be able to treat yourself too!
We hope you enjoy our products as much as we love creating them.