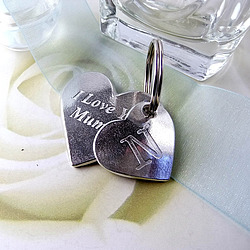 Chris and Nicky Algar have been working in pewter for over 14 years.
Our aim is to produce a high quality handmade product that is unique and special with the added advantage of being made in the UK, we now offer an ever increasing selection of personalised items including cufflinks and keyrings, many designs are shown with the option of one or two personalised hearts or discs but these can also be bought on their own to add to any of our keyrings or to use on their own as dinky initial keyrings.
A lot of our designs are aimed at occasions such as weddings and christenings but many items are suitable for any occasion, to give as a keepsake with a message of love or friendship, and something to treasure, also a great choice of gifts for family members including those very special grandparents.
Pewter is a much softer metal than silver and it doesn't tarnish, our soft lustrous finish is easy to care for and can be cleaned using a silver cloth.
All designs are presented in gift packaging so are ready to give.
Apart from where stated we do not offer a bespoke service on individual designs.