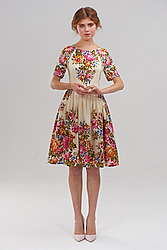 Mrs. Pomeranz is a women's clothing brand, based in London and Moscow. It specialises in a particular style of dresses and skirts, based on a classic 50's silhouette.
The brand was created in 2009 by two sisters Dasha Pomerantseva and Masha Kopieva. The number of items produced is relatively small which allows us to maintain high standards of quality. The fabrics are Italian costume wool, Scottish tweed, Liberty of London floral cottons and Mrs Pomeranz own designs printed in the UK. When you put on Mrs.Pomeranz's dresses you feel feminine, fun and oh so 1950s.
These are dresses are all about being a woman - and loving it.