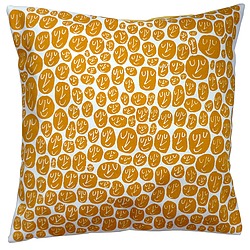 Mr.PS products are designed by Megan Price.
Established in 2004, Megan set up Mr.PS to create an enticing range of contemporary interior accessories, alongside working as a freelance illustrator.
These days the label has grown to include products such as handkerchiefs, pencil cases and shopper tote bags; as well as the signature range of tea towels with brightly coloured ribbon loops to adorn your kitchen; and screen-print artwork to liven up your living space.
Her original designs are inspired by vintage signage and days out at the great British seaside. Colourful prints and greetings cards feature bold graphics, line drawings and typographic messages. Screenprinted and finished by hand in her Salford studio, they all have a touch of personal charm.
The Happy Face collection, an exclusive collaboration with illustrator Robert Shadbolt, includes the best-selling Happy Hankies, along with fun cushions and china mugs.
Now that Megan is a mum to a beautiful baby boy, expect to see playful new products in the pipeline!