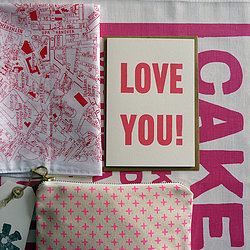 Mr.PS products are designed by Megan Price.
Established in 2004, Megan set up Mr.PS to create an enticing range of contemporary interior accessories, alongside working as a freelance illustrator.
Her original designs are inspired by vintage signage and days out at the great British seaside. She uses old typewriters to create bold graphic patterns, and make line drawings and lettered messages for greeting cards.
The Mr.PS product range currently includes typographic tea towels, cartographic hankies, handmade patterned pouches, bold colourful greeting cards and illustrative mono-screenprints on paper.
"Having learnt to screenprint on my mums kitchen table, I still haven't tired of the exciting moment when I lift up the silkscreen to see the finished image waiting underneath. The old kitchen table now has pride of place in my Salford studio where I can be found handmixing yummy colours ready to screenprint my range of Mr.PS products"
The Happy Face collection, an exclusive collaboration with illustrator Robert Shadbolt, includes the best-selling Happy Hankies, along with fun cushions and china mugs.
Now that Megan is a mum to a beautiful baby boy, expect to see playful new products in the pipeline!