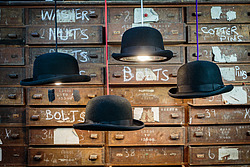 Mr J Designs is a furniture and product design company that produces quirky and individual pieces. Including the Charles Bowler hat light and Prince Edward Top Hat light.
We try to design our products with the essence of British class and humour. All of our products are made to the highest standards and we have built our reputation on making quality products that will last a life time.
We are two old friends from school who left university with good degrees. Whilst in school we decided to start our own design company. After uni we got together and decided to follow our dream, since that moment it has been a rollercoaster with lows and many highs and we wouldn't swap it for the world.