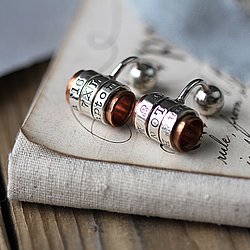 Welcome to Morgan & French and our unique style of personalised handcrafted jewellery - designed and made in our gorgeous, purposely designed studio, housed in an Old Victorian Fire Station in the market town of Biggleswade in Bedfordshire. Previously known as Twisted Typist, we are a small creative team of six who love nothing more than designing and creating unique, personalised jewellery combining twists and turns with moving parts in silver, copper and gold. Add to this our style of hand stamped lettering to further differentiate the quirky, unique nature of our designs.
We take pride in creating meaningful jewellery, every piece of Morgan & French Jewellery is unique, hand crafted, and very personal, and as every item we make is very special to someone, this makes it very special to us, too. We use only the finest hand tools to make your jewellery and we align everything by eye and we hand stamp each letter, one by one, using individual hand held letter punches and a heavy brass hammer to achieve a look that is our own.
The ethics of a company should be extremely important, and we are proud to say that we support other small British companies by buying British whenever and wherever we can.
Our silver belcher chains are made especially for us, right here in the UK, although it was not easy to find a British manufacturer, we are so happy that we persevered, as they are the highest quality and extremely strong. They make their own 92.5% sterling silver alloy, roll this into sterling silver wire, then make our lovely chains for us in their small workshop. We stock standard sizes but this unique relationship allows us to have our chains made in any length, which is just perfect if a customer has a specific requirement, or we need something different for a commission piece.
Our lovely Gift Boxes are also made in the UK, from the same company who supported us as a small start-up company back in 2006 when we worked from a farmhouse table at home. We are proud to say they now make our bespoke boxes for us. The boxes are made from recycled materials, and because they are not imported from the Far East, this ensures that our Carbon Footprint is as low as it can be.
And that Kitchen Table, well that takes pride of place in the Studio, still covered in felt tip marks and paint from its life as the centre of home, but also now doubles as Lisa's office desk, work space and photography table, a great reminder of where all good businesses start.