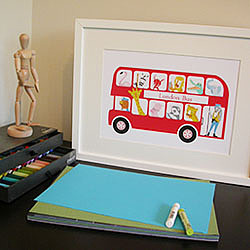 Moonglow Art was started after I completed my MA degree in Children's Book Illustration and that was my motivation behind starting to produce art prints for children.
However, I would like build up the Moonglow Art brand for both adults and children as well as extending my illustrations into fabric and other items in the future. As I have always had a passion for creating colourful or unique home decorations, I want to transform my illustrations into special fabrics and prints.
I am experimenting with my illustrations on fabrics at the moment, so I will be able to add fabric decoration such as cushions later on.