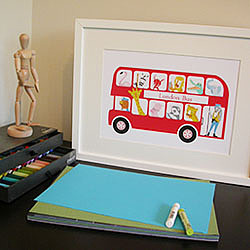 Hello and welcome to Moonglow Art.
I am a graphic designer and illustrator living in Cambridge, where I completed an MA in children's book illustration at the Cambridge School of Art and married my husband.
I originally come from South Korea, where I trained as a graphic designer and I am strongly influenced by the characters of animals and nature adapting them into prints for children and adults. This motivated me to study at the Cambridge School of Art and develop my illustration skills.
Now in Moonglow art I use both the skills I have developed to create art prints, fabric gifts and unique stationery using my animal characters. I am always excited when using colours in my drawings and paintings and producing beautiful fabrics.
I will continue to develop my skills and passion for animals and nature and bring these into different art platforms, so I can bring the happiness of colourful art into people's everyday lives.
In The Press : One of the most exciting things to happen at Moonglow Art was when my Noah's Ark and a few other designs were used on the set of the Channel 4 series Humans.